Fall here in Kansas City is about all things cozy and pumpkins. Creating the perfect fall atmosphere in your space is key to enjoying everything the fall season has to offer. Deck out your apartment in fun, cozy, pumpkin-themed magic that will appeal to all of your senses. This list of fall decorating tips and tricks is perfect for all floor plans and will create a warm welcoming atmosphere in your apartment home.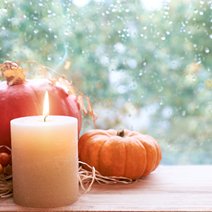 Fall Accents
As many know, apartment living has some obstacles when it comes to decorating. That is where adding fall accents throughout your space will spruce it up, making it feel like an entirely different apartment. Adding fall accents to your home allows you to scatter signs of fall throughout the apartment. Fall accents include pumpkins, leaves, and lots of fall colors, such as orange and brown. Dark berry garland is the perfect accent to use throughout the space. It adds a pop of color and can be hung over windows and door frames or draped over bookshelves. Other fun and unique fall accents include acorns and corn cobs.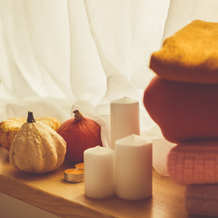 Halloween
One of the first things that comes to mind when many think of fall is Halloween. This holiday offers a bunch of fall decorating ideas for your apartment home. With so many fall happenings in Kansas City, there are a variety of opportunities to pick up Halloween decorations and get ideas for fall decorating. When out and about, keep your eyes and mind open to the possibilities of adding some fall into your home.
For Halloween decorating add pumpkins, bats, skulls, ghosts, and spiders (webs too) to your existing decor. All of these can be added to bookshelves, over picture frames, on table tops, and over cabinets. Then, when Halloween is over and all the trick-or-treaters have gone home, swap out the bats, skulls, ghosts, and spiders with pinecones, corn husks, gourds, and other fall harvest-themed decorations. The best thing is, the pumpkins get to stay out for another month.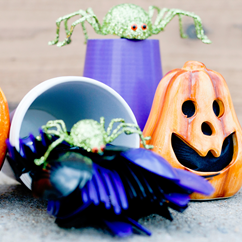 Colors
When it comes to decorating a space for any season, color is the key ingredient that can make or break a space. Classic fall colors include oranges, yellows, reds, and browns. Other fall-inspired colors that can be used to add a pop of color to a fall palette include dark blues, dark greens, and dark berry colors. These colors mixed with fall patterns such as plaid can help create the perfect space in your home.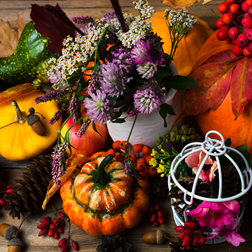 Cozy Accents
For many, fall is time to cozy up under a throw blanket and relax. Adding cozy accents to offer an easy, fall-themed change in your apartment living room. Plus it is very easy to do. Swap out the throw blankets you are currently using with fall-themed and fall-colored ones. Other cozy accents to add to a room include fall-colored throw pillows, which can be set on couches and chairs. Want to make the space even cozier? Select oversized pillows to place on the floor for fall floor picnics and movie watching.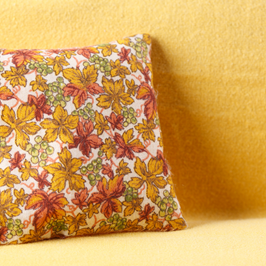 Centerpieces
Centerpieces are an easy way to add touches of fall throughout your apartment home's existing decor. Fall-inspired centerpieces can be placed on coffee tables, mantels, countertops, and dining room tables. They can also be placed on outdoor patio tables to create a warm, welcoming space to enjoy the autumn weather. Sticking to a fall theme, select centerpieces filled with pumpkins, fall vegetables, gourds, dusty orange and blue tones, fall flowers and leaves, and candle sticks. The candles will add a warm glow, enhancing the look of the warm, fall colors used in your decor.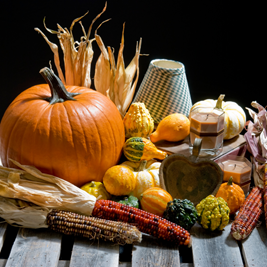 Fall Plants & Flowers
There are many different types of fall plants and flowers that are perfect for apartment living. Pots of fall foliage can be placed both inside an apartment or out on the patio. Pot plants and flowers such as ornamental kale, mums, violas, yellow daisies, wine-red coleus, golden Japanese forest grass, hydrangeas, and eucalyptus. Branches also make great accents when planting fall flowers and plants. Purple and burgundy colored foliage is another great addition to your fall decorating palette. Plant these items in rustic pots and urns for outdoor decorating and in simple vases to use in centerpieces. Don't forget to add some pumpkins and fall vegetables to accent your fall planters.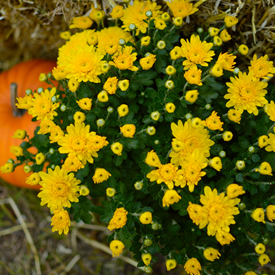 Fall Vegetables & Nuts
In addition to fall plants and flowers, there are a variety of vegetables and nuts that help spruce up an apartment in the fall. Most common vegetables used to decorate in the fall include pumpkins, gourds, squash, and apples. Hypercium berries and pears make for fun accents to the more common fall vegetables. These items can be strung up, strategically placed, set in bowls, or mixed in with pumpkin piles on the patio. Top off autumn decorating by adding corn cobs with pigmented kernels.
Placing an assortment of nuts in a bowl not only makes for a great display on a table or countertop, it also makes a great snack too. Nuts can also be scattered in shelves with leaves to decorations throughout an apartment.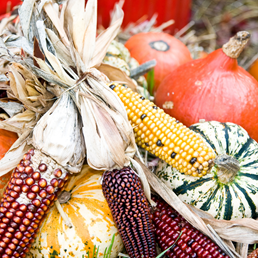 Fall-Inspired Wreaths
Wreaths are a simple way to add fall decor to an apartment home. Wreaths can be used to dress up doors, windows or empty spaces on the wall. The best fall-inspired wreaths are those with autumn leaves, corn cobs, mini pumpkins, fall vegetables, dark berry garlands and have splashes of brown, dark green, orange, red, and yellow. The fall season is upon us and many department stores have their fall wreaths out for purchase. Another option is check with a local florist to see what type of wreaths they have available and sometimes florists can make a customized wreath for your fall decorating needs.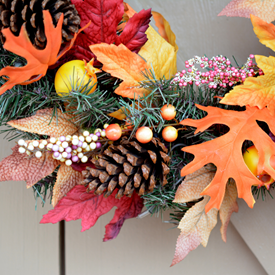 Front Door
The front door to your apartment is the first impression friends, family and guests have before entering your home. This is also a usable decorating space that many who live in an apartment forget about. Use this valuable space to set the mood for a warm and cozy fall for your guests and anyone who walks by your front door. Hang a fall, pumpkin-themed wreath on the door that is filled with leaves, pumpkins, gourds, and fall-colored ribbons.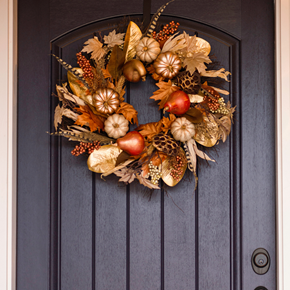 Patio
The patio is another area of an apartment that is often overlooked when it comes to decorating for the different seasons. Take advantage of this outdoor space creating a place you can go relax and enjoy the cooler autumn weather. Make a pile of pumpkins in one corner of your patio and accent it with corn stalks standing up behind the pile. Large corn stalks can also be placed on either side of the patio to frame it out.
For Halloween, display carved jack o'lanterns on the table of your patio and light up with a small electric lantern at night. Have fun and set out a skeleton on a chair and hang witch's hats and bats from the ceiling of the patio. When Halloween is over, bring in the skeleton, hats and bats and replace with festive fall-colored plants and flowers. Don't forget to add some playful textures, including pillows and rugs to the seating area of the patio.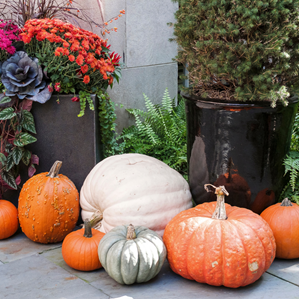 Bathroom Decor
Bathrooms in apartments are often small spaces and do not leave a lot of room for decorating for each season. However, there are still fun ways to incorporate the fall with some simple changes and additions to your existing bathroom decor. Swap out towels, especially hand-towels, for those in harvest colors and add small pumpkins to a shelf or countertop. Fill your soap dispenser with fall-scented hand soap. Add finishing touches by hanging fall leaf garland around the mirror.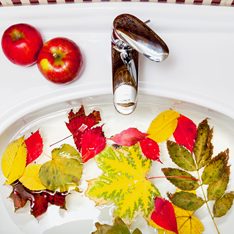 Fireplace Mantels
Not all apartment floor plans have mantels, but if yours does, take advantage of this bonus space. Fireplace mantels offer additional space to drape fall garland, scatter leaves, add pumpkins, and create a warm glow. Enhance the decoration by creating a fall scent filled room with candles laced on the mantel.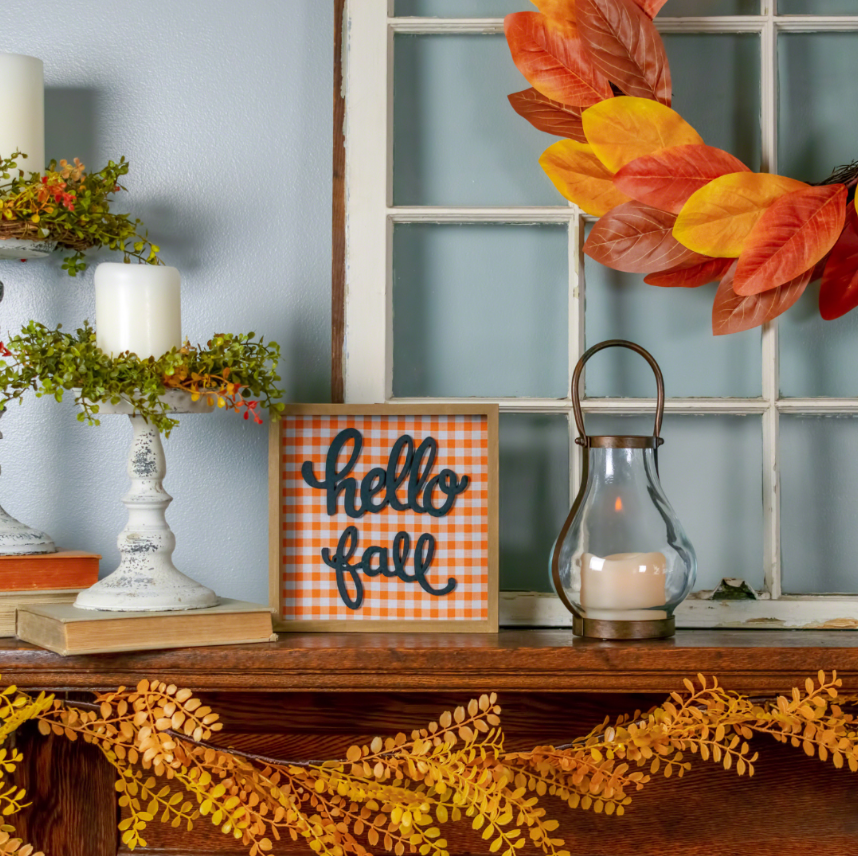 Fall Scents
Fill your apartment home with an aroma that screams "It's FALL!" by adding some popular scents associated with fall throughout your apartment. Classic fall scents include cinnamon, apple, ginger, wild orange, sandalwood, fir, nutmeg, clove, and pumpkin spice. By adding one or a creative mixture of these scents to your space will help create the perfect fall oasis. Different ways to add fall scents to your apartment include using wax melts, spraying air fresheners, displaying herb bouquets, and using oil diffusers. There are also some do it yourself methods to add fall fragrance to your space.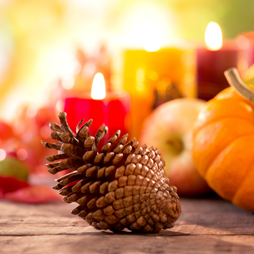 Making your own fall potpourri is the perfect way to fill your apartment with fall scents. To make the potpourri grab a vase, glass jar or bowl and fill it with dried apple slices, dried orange slices, cinnamon sticks, whole cloves, juniper berries, dried roses, bay leaves, pine cones and a touch of essential oils. The best essential oils to use for a fall potpourri include cedarwood, clove, cinnamon, orange, and pine. Mix all of these items together, place in your display bowl, jar or vase and let it sit out on a table, bookshelf or countertop. The aroma from the ingredients will fill the air of your apartment home.
Now that you have decorated your space, go get some hot cocoa, curl up under your new throw blanket and read a good book. Or whatever you plan to do to enjoy autumn this year. At least you can enjoy it knowing you have a perfectly decorated fall-inspired apartment home.
All photos are from Canva.com